NetIX force manual process
by Steve
in Technical
If you need to pick up the outbound files or make the inbound files (BOS Batches) quicker than the 30 minutes, go to the My Connectors section on the menu list on the left had side.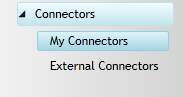 My Connectors – are Connections between NetIX 2 and the client
External Connectors – are VAN, FTP, AS2 connections to the Trading Partners.
Selecting the My Connectors item will display

Highlight the "client" BOS and click the Run button – this will take the data from NetIX2 (BOS Batches) and store it in the holding area for the NETransfer service (at the client) to pick up. NETransfer will also pickup any outbound data files that have been uploaded. For uploaded files it will also kick off the translation process.
If you go to the external connectors you can do the same with the VAN mailbox if you need to.
Viewing Batch History and Document History and viewing the events will give you (and our Support team) a lot of information about what has happened during communication/translation – this is our first point of call for support to try and track down any issues.
Categories
Recent Posts
Archives
Tags