Recent XLCubed Updates
by anon
in News
XLCubed have been busy in the past few months and have released both XLCubed 7.5 and 7.6. We go through the new features released in both of the most recent XLCubed updates.
7.5 Update
In the XLCubed 7.5 update we saw significant additions including: web and mobile analytics, interactive charting, publication and sharing of PowerPivot and more. We'll now explore some of the big additions in some more detail.
Web and Mobile Analytics
The 7.5 update delivers cube browsing, reporting and analytics to web and mobile users. For a rundown of web analytics in the 7.5 update check out Web Analytics Intro. Full analytic functionality is available on through the mobile apps for iOS and Android.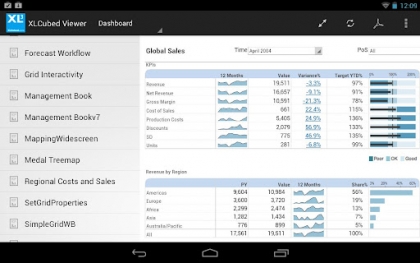 Interactive Charting
Reports in XLCubed can now include interactive (clickable) charts thanks to the 7.5 update. You'll be able to click or touch a point of interest to update the report in-context. You will also be able to drill down to different levels of the report.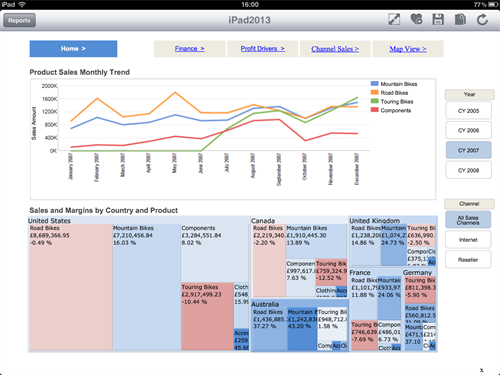 Publication and sharing of PowerPivot
A great addition in version 7.5 is the publication and sharing of PowerPivot models. By publishing PowerPivot reports to XLCubed Web Edition they are upscaled into server based Analysis services.
7.6 Update
The XLCubed 7.6 update contains incremental changes rather than the game changing new additions, but there are a few highlights which we will go through.
Flex Reporting
Flex Reporting is a new feature that allows you to define custom drill paths for reports. Flex Reporting makes what used to be a complex procedure, simple, interactive and flexible. For more information have a look at the video.
Seamless SharePoint Integration
It has been possible to push XLCubed reports to SharePoint for some time. However with the 7.6 update the process becomes seamless. It is as simple as connecting to the SharePoint server and publishing your XLCubed report, dashboard or piece of analysis.
Mobile
With the 7.6 update comes a new application for Windows 8 phones. This adds to the iOS and Android applications released with version 7.5. Follow the link to download the Windows 8 XLCubed app.
 Sources:
http://hosted-p0.vresp.com/251139/2ea02214d6/ARCHIVE
http://www.xlcubed.com/products/mobile
http://www.xlcubed.com/products/version7-6
Categories
Recent Posts
Archives
Tags