Although a productive and extensible tool for report development, Excel is not well suited to widespread report deployment. With XLCubed, reports and analyses developed in the Excel client can simply be published to the Web Edition, and report consumers need only Internet Explorer and the required security permissions.
XLCubed Web has two main aspects, as a deployment mechanism for reports and dashboards, and as an ad-hoc query and analytics tool for web based users.
Report & Dashboard Deployment
Reports developed using XLCubed and MicroCharts in Excel can be published to XLCubed Web simply and quickly. Web users then access the published reports through either the XLCubed Web homepage, or through existing company portals e.g. SharePoint or websites. The reports remain data connected, to Analysis Services or Sql Server, and consequently there is no requirement to re-publish each reporting cycle. Published reports can incorporate all modes of XLCubed Reporting, MicroCharts, native Excel Charts and formulae, and multi-sheet workbooks.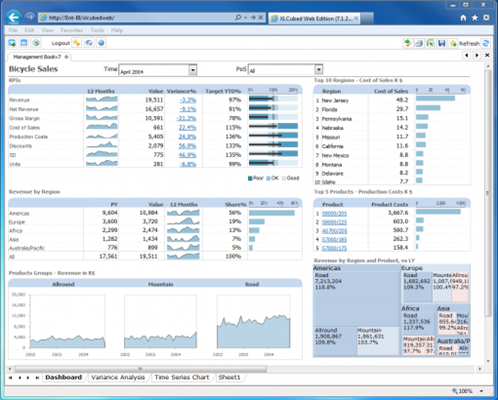 Reports often raise as many questions as answers, and XLCubed enables dynamic link through analysis paths, or slice and dice report manipulation within the browser. Web reports can be printed to pdf, or saved back into Excel depending on the report level permissions assigned at publication time.
Read our blog post on XLCubed Dashboards
Ad Hoc Reporting and Web Analytics
XLCubed Web also provides a rich ad hoc query environment, which can be enabled or disabled by user group as required. Users can easily slice and dice, drill down, and filter data. Custom calculations are simple to add, but olap aware, and respect drill downs and hierarchy repositioning. Exceptions can be highlighted through conditional formatting, and any number can be quickly broken down to its constituent parts through breakout.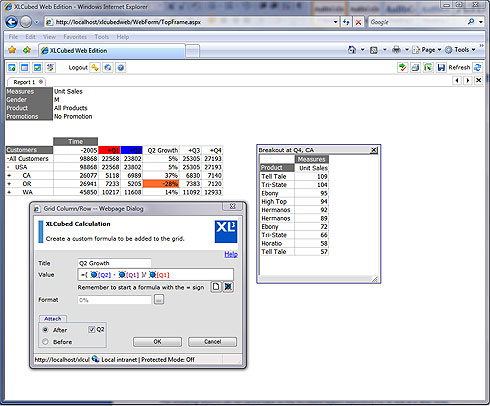 Mobile App
XLCubed Report Viewer provides device optimised access to reports running on any accessible XLCubed Web Server. The environment is touch optimised, and provides a familiar experience for report selection and navigation. The app can be downloaded from both Apple and Android devices.
Want to Know More?

For more information on how XLCubed Web Edition could benefit your company fill out the enquiry form or contact us on 02 9672 4222 for a FREE no obligation chat.
What have you got to lose!