XLCubed Excel Edition brings the full power and flexibility of OLAP reporting to Excel. The strengths of Excel as a familiar and powerful calculation and modelling environment are retained, while the risk of Excel as a data store is removed.
Connecting to Microsoft Analysis Services cubes (the BI component of SQL Server) and SQL etc, XLCubed provides slice and dice analytics, free format asymmetric reporting, and a rich environment for interactive, data connected Excel dashboards.
Analytics
XLCubed provides an easy to use yet powerful analytics environment. With XLCubed Grids, users can explore and understand their data through slice and dice, drill through the available hierarchies, and quickly specify level or descendant based selections for dynamic reporting. User defined calculations are simple to add, but olap aware, and respect drill downs and hierarchy repositioning.

Report sections can be linked together by hierarchy, and the selection criteria can use the XLCubed dialogs, native Excel drop downs, or direct user entry. Any number can be quickly broken down to its constituent parts, and in-grid visualisation is available within a fully interactive environment.
Read our blog post on XLCubed Analytical Applications

Reporting
For some reporting layout is key, and there are precise corporate templates which must be adhered to. Asymmetric reporting is also a requirement in many environments. XLCubed's formula model means that it's possible to create a data-connected report of any shape and layout achievable in native Excel. The key formulae are simple in concept and are created through intuitive dialogs, or the conversion of an XLCubed Grid.
Despite the free format layout, the reports still offer drill down, drill through, and number decomposition (breakout).
Dashboards
Excel is a highly effective environment for dashboard reporting. The user has fine grain control over the positioning, layout and sizing of charts and tables, and the ability to easily calculate additional metrics using Excel itself.
The primary issue has always been that of Excel as an isolated data island, or 'Spreadmart'. XLCubed maintains an active connection to the data, taking away the maintenance burden associated with most traditional Excel dashboards, but retains the full flexibility of layout available in native excel. The in-cell charting available with MicroCharts, a licensed component of XLCubed Excel Edition, significantly extends what is achievable in terms of data visualization, and is ideally suited to dashboard reporting.
Read our blog post on XLCubed Dashboards. Despite the free format layout, the reports still offer drill down, drill through, and number decomposition (breakout).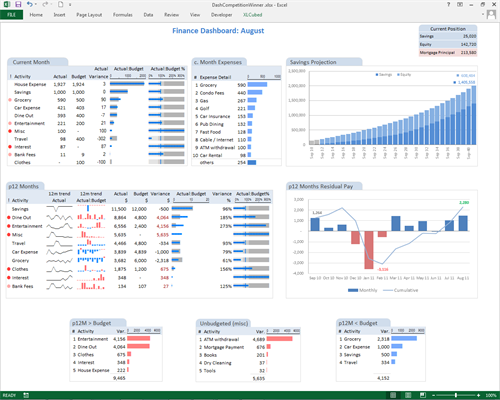 Want to Know More?

For more information on how XLCubed Excel Edition could benefit your company fill out the enquiry form or contact us on 02 9672 4222 for a FREE no obligation chat.
What have you got to lose!