Introducing Microsoft Business Central
A complete business management solution designed for growing businesses looking to easily upgrade from their entry-level accounting software and legacy ERP systems. Microsoft Dynamics 365 Business Central assists organisations to manage finances, operations, sales and customer service, to streamline business processes, improve customer interactions and make better decisions.
Microsoft Business Central is designed to work right out of the box. However if you need customisations to suit your business needs, Jigsaw Technology has the expertise required. Jigsaw has been helping businesses with the planning and implementation of their IT needs since 1992 and has significant experience working with Microsoft Dynamics products.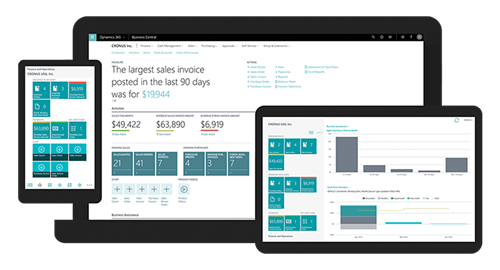 Manage your financials
Speed up financial close and report with accuracy, while ensuring compliance.

Automate and secure your supply chain
Increase visibility across your supply chain and gain greater control over your purchasing process.
Sell smarter and improve customer service
Maximise revenue opportunities and better serve customers with built-in recommendations.
Keep projects on time and under budget
Manage budgets and monitor progress of your projects with real-time data on available resources.

Optimise your operations
Streamline your manufacturing and warehousing operations to deliver products on time and reduce costs.
Microsoft Business Central Pricing
There are 3 difference subscription licence types available. They are Essentials, Premium and Team Members. Essentials is for companies that need sophisticated processes yet is simple enough to be managed in one solution across finance, opportunity, supply chain, and project management or via micro vertical apps. Premium is an end to end cloud business management solution - adding key functionality for manufacturing and service order management on top of the features in Essentials. Team Members (additional users) is designed to drive adoption of the solution across users. With this licence you can approve Time & Expense, read business reports, and lookup customer & inventory data. For additional information on Business Central licencing, please download the Licencing Guide.
Read anything within Business Central
Update existing data and entries in Business Central - existing data are records like customer, vendor or item records which are already created.
Approve or reject tasks in all workflows assigned to a user
Create, edit, delete a quote
Create, edit, delete personal information
Enter a time sheet for Jobs
Use PowerApps for Dynamics 365
Financial Management
Customer Relationship Management
Project Management
Supply Chain Management
Human Resources Management
Warehouse Management
Everything in Essentials
Service Management
Manufacturing
Want to Know More?

For more information on how Microsoft Business Central could benefit your company fill out the enquiry form or contact us on 02 9672 4222 for a FREE no obligation chat.
What have you got to lose!